Affiliate Disclosure: We earn commissions if you purchase products from retailers after clicking on a link from our site.
Fish oil supplements are gaining in popularity every day. What was once a relatively small market has grown in recent years, thanks to the increased awareness of the benefits of Omega3 (DHA).
Unfortunately, with such a large market, it can be difficult to find a supplement that actually works. Manufacturers will make bold claims regarding the efficacy of their products, but there's a chance that you might end up spending money on something that doesn't actually work.
To get around this problem, your best option is to spend time looking for comprehensive reviews, which is exactly what we're presenting here for the Xtend Life Fish Oil Omega 3 / DHA  gel capsules.
This Xtend life fish oil review will take you through all of the features of the product, the science behind it, and the benefits it can provide.
Want to skip the review? Click the image below to go the product page.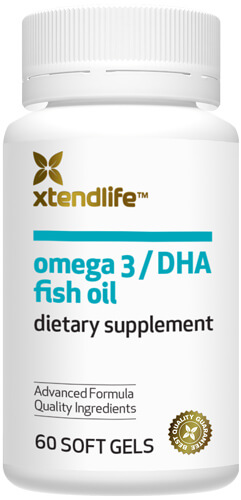 Let's get started…
Xtend Life Fish Oil Key Product Details
• Pack of 60 Soft Gel capsules.
• Made from natural ingredients in New Zealand
• High concentration of DHA for increased effectiveness.
• Numerous health benefits from a single product.
• Safe for adults and children over six years old.
What are the Key Ingredients in Xtend Life Omega 3 Capsules?
Whenever you're buying health supplements, it's important that you can choose a product that is free of fillers and other chemical additives.
The Xtend Life Fish Oil DHA capsules are limited in additives and the majority of the ingredients are natural fish oil extracts. This makes the supplement safe for almost anybody to take, including children who are over six years old.
For every two capsules, ingredients include:
• 2000mg of Fish Oil made up of Omega 3/DHA (700mg) and EPA (300mg).
• 240mg of Omega 9
• 120mg of Omega 6
Additional ingredients are used to create the soft gel capsules, and some are used to maintain freshness of the capsules. These ingredients include gelatin, glycerol, water, D-Alpha tocopherol, natural rosemary extract, and ascorbyl palmitate.
Click here to learn more in depth information about the ingredients contained in each Xtend Life fish oil capsule.
If you're looking for a supplement that is as pure as it can possibly be, then the Xtend Life fish oil capsules are definitely worth consideration.
What Health Claims Are Made by Xtend Life Fish Oil?
If you're considering any kind of health supplement, it will likely be because of a condition or illness that you're currently experiencing. Some people also take supplements to maintain good health, and these Omega 3 capsules would be suitable for both scenarios.
Here's a useful article you can read on Webmd about the health benefits of including omega 3 fatty acids in your diet.
The manufacturer claims that these capsules help to support good heart health, that they can improve brain health by providing nutrients that are needed for cognitive performance, and the marketing for the product also claims that the capsules can be used to maintain good cholesterol levels.
Xtend Life also claims that the capsules will relieve inflammation and join discomfort, that good blood pressure can be maintained, that blood sugar levels will be kept within healthy parameters, and even that the product can help to promote healthy sleep patterns. Finally, there is marketing for this product suggesting that Xtend Life fish oil capsules will improve mood and mental focus.
That's quite a list of health claims, and if the product could deliver on all of these, then it would make for some incredible value.
The best way to verify these claims is to take a look at the key ingredients, and find out how the science and research can add credibility.
DHA in Testing – What are the Real Health Benefits?
DHA, more commonly known as Omega 3, is an essential fatty acid and is the key ingredient in the Xtend Life Fish Oil capsules. There has been a significant amount of research performed to determine the efficacy of DHA in a number of situations. As part of this Xtend Life Fish oil review, we're going to talk about the results of some of the research, in order of scientific grading.
Strong evidence for…
There is strong scientific research indicating that EPA and DHA (both concentrated ingredients in this product) can help to prevent coronary heart disease by reducing inflammation in the body. Both acids have also been linked to a reduction in blood pressure. This is achieved through a lowering of triglyceride levels in the body.
There is also evidence that the anti-inflammatory benefits of DHA can help to reduce the symptoms of rheumatoid arthritis, and other conditions that are associated with high levels of inflammation.
The other benefits associated with the product have been proven anecdotally in consumer reviews, and also through limited scientific study. The following benefits should all be considered as 'average' when it comes to scientific certainty.
Keep in mind that it can take decades for scientists and the healthcare industry to agree on the benefits of a single ingredient, so a lack of study does not mean that DHA and EPA are not effective ingredients. The following benefits have been proven to some degree in either scientific study or user experience.
Moderate evidence for…
Preliminary studies have shown that DHA can help to alleviate symptoms of respiratory distress syndrome.
High doses of omega 3 can help to slow the progression of age-related macular degeneration. This condition leads to an eventual loss of eyesight and can be debilitating for the elderly. Initial studies into DHA treatment have been highly promising.
You may have heard or read that DHA capsules like Xtend Life fish oil can help to regulate mood in both children and adults. This claim is based on actual evidence, and studies have shown that DHA supplements can decrease impulsiveness and reduce aggression.
This suggests that DHA could even be used as a supplement for children and adults who suffer from ADHD.
One of the most significant claims of Omega 3 producers is that the fatty acid provides essential nutrients to the brain, and can therefore promote clearer thinking or even improved cognitive function. It is well known that a significant portion of brain matter is made from Omega 3 acids, and it was originally believed that consuming acids from seafood would help to benefit the brain.
Today, we know from research that there is actually potential to this claim. Fish oil has been shown to improve cognitive function in children with learning difficulties, and it may help adults with mental clarity and overall brain function.
Research is still limited, but the initial studies are promising, as is feedback from users of Omega 3 fish oils from Xtend Life and other brands.
Why is Xtend Life Omega 3 Fish Oil an Ideal Source of DHA Intake?
You now understand the benefits that DHA can provide, and you can see that there have been scientific studies that support many of the claims that the product makes.
As you can imagine, not every supplement is created equal, so it takes a product of both high quality and purity that you can gain these benefits.
Xtend Life is a trusted brand that enjoys high rates of customer satisfaction and repeat business.
As has been discussed already, Xtend Life limits the use of additional ingredients and fillers that could erode the effectiveness of pure DHA and EPA. This product contains no soy or gluten, and no dairy or peanut traces.
Unlike some other Omega 3 products, there is also no shellfish components, so it is safe for people with allergies to mollusks, squid, and lobster.
Produced in New Zealand, the natural fish oil extract in Xtend Life comes exclusively from Tuna and New Zealand Hoki, a unique species of the Southern Blue Whiting fish.
The company uses a specialized production line which limits contaminants while increasing the yield of oil that comes from raw fish material.
Many of the competing products on the market use rejected stock or parts of the fish that aren't generally consumed by humans.
With Xtend Life Omega 3 fish oil, you'll be getting an extract that comes from full healthy fish of the highest quality.
New Zealand's coastal waters are some of the most well protected in the world, and boast low levels of pollution and contaminants.
The result is fish oil in its purest form, packaged in a world class facility for your safety and peace of mind. The fish sources are well maintained and sustainable, so you'll also have confidence knowing that your Xtend Life supplements don't have an adverse effect on the delicate marine ecosystem.
Are These Capsules Easy to Take?
This Xtend Life fish oil  review wouldn't be complete without taking a look at the actual packaging and capsules that are included.
The packaging itself is basic and presented with a clean white design, indicating the purity of the product inside. Each bottle comes with a safety seal that ensures freshness and eliminates tampering, and unlike some inferior supplements you'll find no overpowering 'fishy' smell inside.
Because the fish oil used in the product is fresh, the supplement is presented in natural gel caps. The caps are made from gelatin, glycerol, and water, and are designed to preserve the integrity of the oil extract, while remaining easy to swallow.
For the adult dosage you'll have no trouble simply swallowing two capsules with a glass of clean water. The capsules are relatively small and are also suitable for children, with the recommended dosage being at one capsule per day. The capsules leave no aftertaste in the mouth.
Can You Order These Capsules Online?
Xtend Life fish oil capsules can be ordered directly from the manufacturer, and will be shipped to your door anywhere in the world.
The tamper proof packaging makes them ideal for international shipments, and the small size and weight means that you won't need to worry about excessive shipping costs.
Possibly the biggest advantage of choosing Xtend Life for your fish oil capsules is that you'll be able to take advantage of a 365-day refund or product replacement guarantee.
If you find that the capsules are not effective, if you're not happy with the quality, or if you believe that the product is not true to the marketing and label, Xtend Life will have you covered.
Click here to learn more about Xtend Life's refund policy.
This is a significant advantage and allows for a no risk trial of the product.
What Do Consumers Say About the Product?
Perhaps the biggest indicator of quality on any product, is the feedback and support that it receives from real consumers who have needs similar to your own.
Xtend Life fish oil capsules have enjoyed positive reviews from customers all around the world, in countries like the United States, Singapore, New Zealand, the United Kingdom, and many others.
Many of the users have been particularly impressed with the lack of taste (somewhat unique for a fish oil extract), as well as the effectiveness of these capsules when it comes to controlling inflammation.
Customers have noticed changes in cholesterol, as well as in general pain relief. Some customers have also reported that the use of the Xtend Life capsules have helped them to remain focused by removing brain cloud.
If you're a professional or a busy student who needs to stay on top of your mental game, then these capsules could be an excellent daily supplement.
Are There Similarities to Xtend Life Omega 3 / QH Ultra?
If you've seen the Xtend Life Omega 3 / QH Ultra capsules, you might be wondering about the key differences between the products.
The QH Ultra capsules include Ubiquinol, Lycopene, and Astaxanthin as additional ingredients.
The special formulation includes the CoEnzyme Q10, which can help to improve energy and provide further support for healthy blood pressure levels.
The QH ultra product is recommended for anyone approaching or past middle age, because it provides support for important functions in the liver, lungs, kidneys, and heart, all of which will deteriorate in performance after 40 years of age.
Levels of DHA and EPA, Omega 9 and Omega 6 are all identical.
Are you ready to learn more in depth information and check out their prices? Click their images below.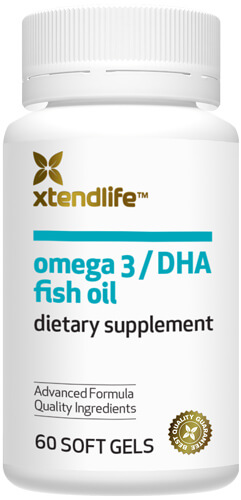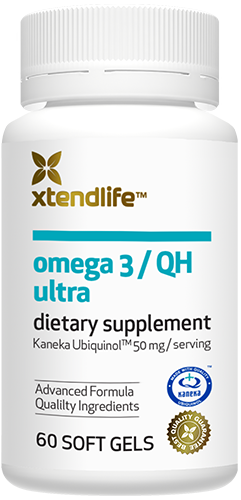 Final Thoughts – Are the Xtend Life Fish Oil Capsules Worth It?
Compared to many of the other supplements on the market, xtend life fish oil has a high level of positive scientific research, and has been proven as an effective treatment for a range of symptoms.
If you suffer from arthritis, any kind of pain related to inflammation, or if you simply want an effective supplement to maintain brain health and good cognitive function, then Xtend Life capsules are definitely worth the relatively small investment.
High customer satisfaction can provide you with confidence, and with an unusually generous 1-year guarantee you'll be able to try these pills in your own home with absolutely no financial risk.
Save
Save
Save
Save
Save
Save
Save
Save
Save
Save